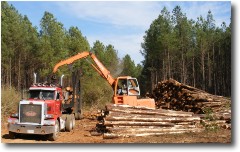 Rocky Comfort Forest Products Company, Inc. was established in 1986 by owner Rocky Gilmore. Rocky is a third generation logger and was loading logs for his father in 1975 at the age of 16.

In 1986 Rocky branched off and began his own logging company...Rocky Comfort Forest Products. His business is named for Rocky Comfort Creek, a local tributary of the Ogeechee River. "I wanted to use Ogeechee in the name of my new business but there were so many businesses with Ogeechee in their name. I remember one day riding over Rocky Comfort Creek and thinking that would be a good name….Rocky Comfort."


Rocky Comfort Forest Products buys tracts of timber and land throughout a twelve county area in East Central Georgia. We employ two experienced foresters and contract with several certified Georgia Master Timber Harvesting crews that are skilled in various types of timber harvesting. We also deal directly with all large paper companies and sawmills including: Weyerhaeuser, International Paper, Georgia Pacific, Rayonier, Grant Allendale, Battle Lumber Company and more. Being a small business, we have low overhead, which allows us to offer top prices on all pine and hardwood products.